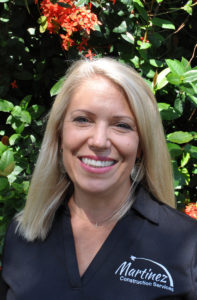 Angie's years of experience in the federal design and construction industry, include four years as an active duty Navy officer in the Civil Engineer Corps. Angie has a bachelor's degree in civil engineering from Auburn University.
Angie grew up around Federal construction, and when she graduated from college, she stayed in the family business, joining the Navy Civil Engineer Corps.  She spent a few years working for a small environmental consulting firm, and then, after realizing she missed construction work, she moved on to work for a large government contractor. After about ten years, Angie transitioned to consulting, where she worked with companies to help develop their business development strategies for the federal market. Eventually, she joined her sister, Bre, and brother-in-law, John, as vice president of Martinez Construction Services.
Angie is a true problem solver, known for getting things done on a strict budget or tight timeline. She feels that nothing is more fun than accomplishing a project that seemed like it couldn't be done. She's proud of the work the company does – everything from supporting the country's national security to its national parks. Her clients say she's friendly, persistent, and fun to work with.
Angie is an active member the Society of American Military Engineers (SAME) serving as Deputy Regional Vice President for the South Atlantic region and also serves on the national board for the SAME Foundation.  She is a current member of the Spacecoast Post and a former member of the posts in Guam, Washington DC, and Northern Virginia.
On a more personal note, Angie is passionate about her faith, her family, and Auburn football and would love to split her time between the beach and snow skiing.